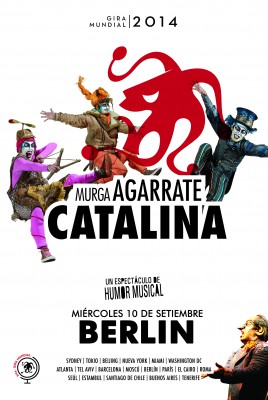 Veranstalter/-in: Werkstatt der Kulturen/ Botschaft von Uruguay
Mittwoch 10.09.2014 20:00 
Theater-Music-Performance from Uruguay
The Murga "Agarrate Catalina" was born as musical group in 2001, performing in different theaters of Uruguay and in 2006 the group was declared "Cultural Ambassador of Uruguay", by the Municipal Government of Montevideo.
Since then they have presented their shows all over the world: Madrid (Casa de las Américas), Paris (La Sorbone), Mexico (Hellenic Theather), Buenos Aires (Coliseo Theater), etc. "Agarrate Catalina" is the first Murga that performed in Cádiz-Spain, origin of this musical rhythm.
THE MURGA integrates color, dance, music, humour with a social message. It is an original and popular rhythm of Uruguay (group integrated with 21 participants), and the show is called "The End of the World".
The show will include videograph and a translated program.